A Dictionary of Intellectual Property Law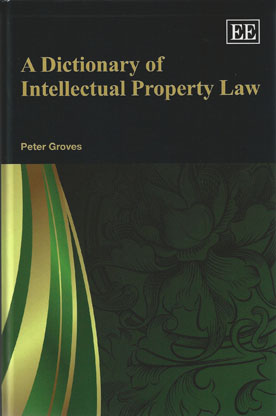 ISBN13: 9780857935199
Published: July 2012
Publisher: Edward Elgar Publishing Limited
Country of Publication: UK
Format: Paperback (Hardback 2011)
Price: £35.00

Intellectual property has a vast, perplexing and diverse vocabulary, and this enriching Dictionary provides a starting point for understanding new concepts and crafting precise definitions to meet the needs of a particular case.
Not only are new words and phrases being coined as technology changes and the law follows, but also the international scope of intellectual property means that IP lawyers will encounter foreign words and phrases. With over 1000 expressions defined clearly and entertainingly, this book should be the first reference point to understanding intellectual property terminology.
It will be particularly helpful to practitioners when they encounter expressions they have not seen before which they need to understand the true meaning and definition of. Students finding unfamiliar terminology and concepts will also appreciate the instant explanation available from this essential resource.