Roots of Liberty: Magna Carta, Ancient Constitution and the Anglo-American Tradition of Rule of Law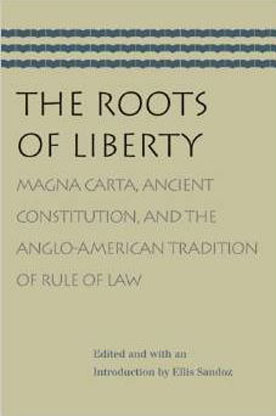 ISBN13: 9780865977099
Published: March 2008
Publisher: Liberty Fund, Inc
Country of Publication: USA
Format: Paperback
Price: £8.95

Despatched in 10 to 12 days.
The Roots of Liberty is a critical collection of essays on the origin and nature of the often elusive idea of liberty.
Throughout this book, the original and thought-provoking views of scholars J. C. Holt, Christopher W. Brooks, Paul Christianson, John Phillip Reid, and Corinne C. Weston offer insights into the development of English ideas of liberty and the relationship those ideas hold to modern conceptions of rule of law. The introduction by Ellis Sandoz places each of the essays in context and explores the influence of Fortescue on Coke.
The essays address early medieval developments, encompassing such seminal issues as the common-law mind of the sixteenth century under the Tudor monarchs, the struggle for power and authority between the Stuart kings and Parliament in the seventeenth century, and the role of the ancient constitution in the momentous legal and constitutional debate that occurred between the Glorious Revolution and the American Declaration of Independence.
Students and scholars of law will find this insightful study in history, constitutionalism, and political theory a refreshing yet relatively brief discussion of the origins of liberty.