The Enforcement of Morals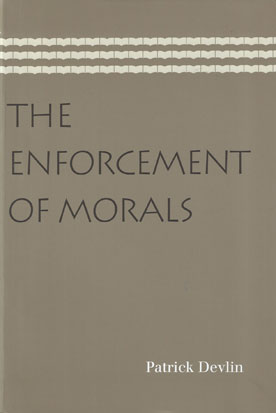 ISBN13: 9780865978058
Published: October 2009
Publisher: Liberty Fund, Inc
Country of Publication: UK
Format: Paperback
Price: £8.95

Are morals always relative? Are private actions—among consenting adults—always beyond the law? Or are there some behaviors which so weaken a society that common beliefs about right and wrong must be enforced to protect the common good?
In opposing the decriminalization of private acts of homosexuality in Britain, Patrick Devlin maintained that not only is it reasonable to allow popular morality to influence lawmaking, it is imperative: ". . . For a society is not something that is kept together physically; it is held by the invisible bonds of common thought."
Some sidestep this controversial issue by asserting that the law should not be used to enforce any morality. Others invoke John Stuart Mill's doctrine that the only purpose for laws governing any member of society is to prevent harm to others, chiefly physical harm. But, Devlin argued, while breaches of shared morality do not cause harm to other individuals in the way that murder and assault do, they do harm society by undermining its moral structure.