International Petroleum Exploration and Exploitation Agreements: Legal, Economic and Policy Aspects 2nd ed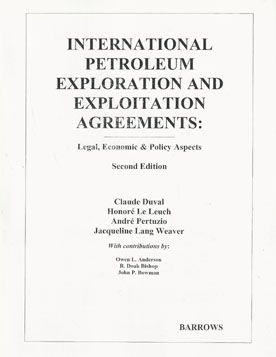 ISBN13: 9780890690499
Published: January 2009
Publisher: Barrows Company Inc.
Country of Publication: USA
Format: Paperback, A4
Price: £112.00

In this 2nd edition of the book, the authors address the legal, fiscal, economic, financial and policy issues surrounding the exploration and exploitation of petroleum resources in view of balancing the interests of the parties involved in petroleum deals: the host countries, the international oil companies and the consumers.
In addition to revising the contents of all existing chapters, two new chapters have been added, one on "Natural Gas," reflecting its increased importance as an energy source today, and the other about "Sustainable Development: Environmental and Socio-economic Issues," similarly recognizing the centrality of such issues to the petroleum industry today.
At every stage, the text is liberally interspersed with illustrative extracts of clauses taken from petroleum agreements of all types and from many diverse jurisdictions. This integration of expert commentary with actual contract provisions contributes to the unique nature of the work.