A Practical Guide to the Transfer of Trusteeships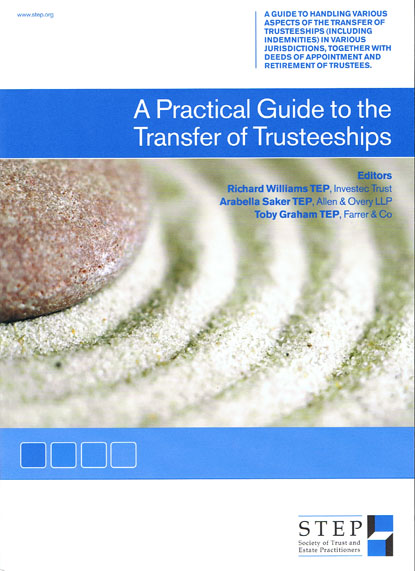 ISBN13: 9780955026218
Published: May 2007
Publisher: STEP
Country of Publication: UK
Format: Paperback
Price: Out of print

A Guide to Handling Various Aspects of the Transfer (Including Indemnities) in Various Jurisdictions, Together with Deeds of Appointment and Retirement of Trustees
The book came about as a result of problems relating to the protection of retiring or removed trustees. In December 1999, the Trust Law Committee in England issued a Consultation Paper on "The Proper Protection by Liens, Indemnities or otherwise of those who cease to be trustees". STEP responded in 2000 to that consultation process, suggesting that the problems that often arise on the appointment of new trustees in respect of the negotiation of an indemnity for the outgoing trustees could be mitigated if there existed a protocol, with standard precedents. The new Guide provides such a protocol, setting out what is regarded as an appropriate approach for professional advisers to adopt in relation to indemnities in normal cases.
Richard Williams, General Editor of the book, said: 'This book will help trustees and their advisers. It provides a clear explanation of the protection afforded by the trustees' lien (in those jurisdictions where the lien is available), together with standard precedents that provide for "chains of indemnities" for use as a starting-point in more complex cases. This should also help the public because practitioners will be able to explain to them more clearly why reliance has been placed on the lien or alternatively why a more complex indemnity clause has been included.'
Arabella Saker, one of the book's editors said: 'The Guide will be of interest to practitioners who are involved in the administration of trusts or in advising in connection with the transfer of trusteeships. The precedent deeds included in the Guide, and in particular the model indemnity clauses in those deeds, should be of practical assistance to all lawyers involved in preparing deeds for the appointment, retirement and removal of trustees.'
The Guide consists of a core English law section, covering the following matters:-
Statutory and express powers of retirement, removal and appointment of trustees
The trustees' lien, including an explanation of the rights comprised within the lien and the position on change of trustees
Indemnities: a general summary of the practical issues, including the rationale for indemnities, powers to indemnify, the level of indemnity and enforcement issues
Inspection and transfer of trust documents: rights to trust documents and information, and the need to balance the duty to disclose against the need for relevant disclosure
Issues that arise where the transfer of the trusteeship takes place in contentious circumstances
Trustee indemnity insurance
This core English section is supplemented by chapters outlining how the position under local law differs from English law in The Bahamas, Bermuda, the British Virgin Islands, the Cayman Islands, Guernsey, Hong Kong, the Isle of Man, Jersey and Singapore.
Precedent deeds of appointment, retirement and removal of trustees are included, for English law trusts and for trusts established under the laws of each of the other jurisdictions. The precedents are accompanied by a detailed commentary on the drafting of such deeds, which explains in particular the indemnity provisions.