Family Courts Without a Lawyer: A Handbook for Litigants in Person Revised edition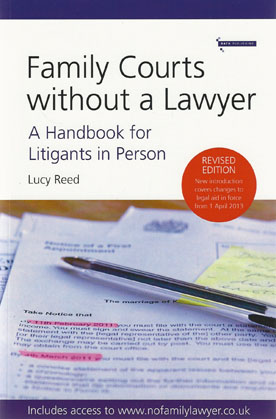 ISBN13: 9780956777409
Published: April 2011
Publisher: Bath Publishing
Country of Publication: UK
Format: Paperback
Price: Out of print

This book will help non-lawyers represent themselves more confidently in court when resolving disputes over finances and child contact following a divorce or separation. Recently announced cut-backs mean that divorcing couples are not going to get legal representation in court paid for by legal aid.
That, combined with the reluctance to spend money on costly legal fees in a time of economic uncertainty, means that many people are now representing themselves.
Family Courts Without A Lawyer is unique in that, alongside clear, plain English explanations of the law and the procedures, it contains practical tips on what to say in court, how to prepare the paperwork for the judge and provides insights into the tactics of the other party's lawyers. No other self-help divorce book provides this level of practical court know-how.
An accompanying website, available only to purchasers of the book, will provide invaluable document templates and letters as well as links to other resources to help prepare their case.
The book taps into a growing, motivated, self-help readership willing to invest in the book's plain English specialist know-how so they can save potentially thousands of pounds on legal advisors.
Revised and Reprinted April 2013