Employment Claims Without a Lawyer: A Handbook for Litigants in Person Revised 2017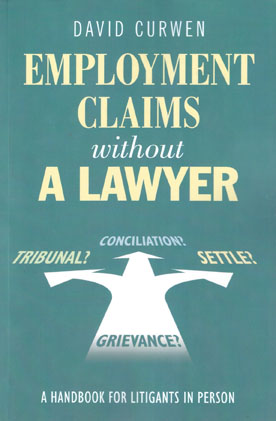 ISBN13: 9780956777430
Published: January 2017
Publisher: Bath Publishing
Country of Publication: UK
Format: Paperback
Price: Out of print

"While reprinting, we have taken the chance to update the book, primarily to take account of the introduction in October 2016 of judicial assessment"
Representing yourself or your small business in an employment tribunal can be daunting but, with the help of this new book, it is not impossible.
Employment Claims without a Lawyer leads you through the whole process in clear plain language so that you can get a complete view of what's involved and how to best present your case.
The author, David Curwen, is a barrister with 32 years of experience representing claimants and businesses and has distilled his experience to provide the practical tips and background law you need to take on this task with greater confidence.
Importantly he also covers the steps both employee and employer need to consider when a problem first arises. So whether you are representing yourself because you cannot afford to involve professional advisers or you are involved in a potential claim and want to know more about the process this book is essential reading.
KEY FEATURES
scores of practical examples & invaluable model letters for you to use in your case
all documents also available for download via noemploymentlawyer.co.uk - see book for details
practical advice from both the employee's and employer's viewpoint
Who should buy the book?


Employees thinking about, or progressing, a claim against their employers
Small business owners defending themselves against an employee claim
HR consultants advising clients through the process
HR managers seeking a clear explanation of employment law & tribunal procedure