A Practical Guide to Permitted Changes of Use under the General Permitted Development Order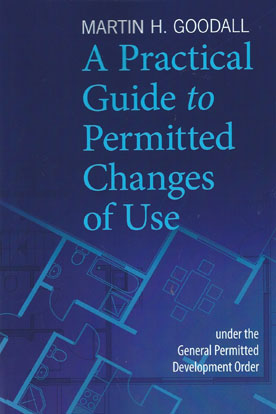 ISBN13: 9780956777478
Published: November 2015
Publisher: Bath Publishing
Country of Publication: UK
Format: Paperback
Price: Out of print

A Practical Guide to Permitted Changes of Use is the only up to date, comprehensive practical guide to permitted changes of use under the much changed General Permitted Development Order.
It has been the government's aim since 2010 to streamline the planning system and to encourage the creation of new homes in a variety of ways. Permitted Development has been seen as an important vehicle for bringing this about, and major changes have been made to the General Permitted Development Order in 2013, 2014 and 2015 which encourage the residential conversion of existing buildings, as well as other changes of use.
Although planning permission for these developments is no longer required, many of them require prior approval by the local planning authority, and this has proved to be a major headache for both property owners and planning officers.
This book gives clear advice on the operation of the prior approval procedure, including the detailed requirements for prior approval applications, their processing and determination, and the way the 56-day time limit for the determination of these applications works in practice. The book also covers other changes of use permitted by the GPDO, including flexible and temporary uses.
After a general introduction to the subject in Chapter 1, the following eleven chapters explain in detail each of the Classes of permitted changes of use. Prior approval applications are then discussed in Chapters 13, 14 and 15, dealing with the content and submission of the application, its processing and determination, and the operation of the 56-day rule.
The remaining chapters in the book then explain the rules on temporary and recreational uses of land, including caravan sites and camping. Other important factors to be considered are dealt with in the appendices, including the loss or removal of permitted development rights and the identification of the 'planning unit' and the 'curtilage' of a building.