Employment Tribunal Remedies Handbook 2016-17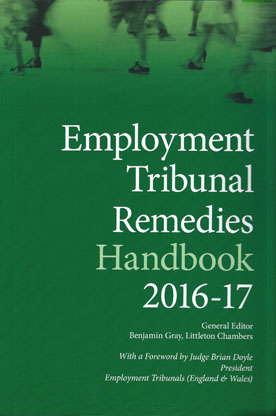 ISBN13: 9780956777492
Published: September 2016
Publisher: Bath Publishing
Country of Publication: UK
Format: Spiral Bound, A4
Price: Out of print

The Employment Tribunal Remedies Handbook is the definitive handbook on employment remedies and how to calculate them.
This new edition has been fully updated with the very latest rates and compensation caps that came into force in April 2016 plus all the key cases and legislative developments of the past 12 months.
Covering over 100 topics from ACAS to Written Statement of Particulars, each entry provides a potted summary of the relevant law facts, figures so the reader can quickly find the answers to questions such as:
Basic Awards: what adjustments can be applied and in what order?
Contributory Fault: what heads of loss can be reduced?
Ex Gratia Payments: when can they be deducted from a compensatory award?
Holiday Pay: how to calculate what's due
Pensions: how to calculate loss under the substantial approach
Protective Awards: does the limit on a week's pay apply?
The text is crammed with worked examples, so you can see clearly how the law would be applied, and a collection of essential tables make it easy to double-check the latest relevant rates.
Published in A4 for maximum portability, the book is republished annually to ensure that it is up to date so you can rely on it in any negotiation, mediation or hearing.
The 2016-17 Edition has been fully reviewed and updated to cover all these live issues in employment remedies:-
limits and caps that apply from April 2016
coverage of the tax treatment of injury to feelings in the light of the Moorthy & Beckford cases.
judicial guidance on grossing up awards
the new remedies available for employees working under zero-hours contracts
updates to the entry on the National Minimum Wage following implementation of the National Living Wage
changes to enforcement of awards and new penalties, in force from April 2016, against employers who do not pay up
news of changes afoot for the calculation of pension loss in the Employment Tribunal