Proper Puddings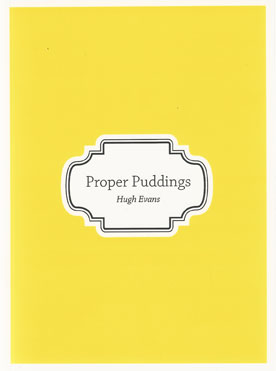 ISBN13: 9780957492509
Published: November 2012
Publisher: Runcible Books
Country of Publication: UK
Format: Paperback
Price: £8.99

Usually despatched in 1 to 3 weeks.
Bookshop Manager's Note: Wildy and Sons always has, and always will be, a Legal Bookshop.
However, Mr. Evans also does a little bit of professional liability work out of 4 New Square next door, so we thought we'd add this respectable looking book to our Food Law section.
~
FOR THE ENTHUSIASTIC EATER OF PUDDINGS, THIS BOOK HAS AT LEAST FOUR VIRTUES
It includes pretty well all the standard proper puddings, whether popular or uncommon (and even a few improper ones).
It has most of the known edible variations for each pudding (and quite a few new inventions).
The recipes are simple, need little expertise, and do not require much in the way of preparation (even the ones involving pastry).
There are quite a few jokes in it, despite the editor cutting some out on the grounds of taste (including the one about Snail Pudding).
So if you are in search of a book filled with substantial, rib-sticking pudding recipes, from rhubarb crumble to treacle tart and sticky toffee pudding, all tried, tested and carefully explained so that anyone can cook them, this is undoubtedly the book for you.
SOME REACTIONS TO HUGH'S PUDDINGS
'Don't like it.' - Pause of 10 minutes. 'Can I have some more please?' - Nicholas, then aged 3
'There will be pudding for supper, won't there?' - His godfather, Godfrey, then aged 43
'Can we make some apple crumble this weekend, Daddy?' - Juliet, then aged 6
'The meringue's gone flat, but it still tastes nice.' - Wife, on a disappointing orange meringue pie
'It's too sticky.' - Jack, aged 4, while ploughing through sticky toffee pudding
'Have you had your cholesterol level tested?' - Mother