Know the City 2013/14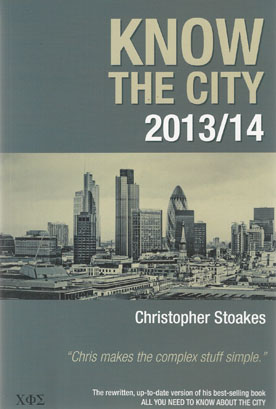 ISBN13: 9780957494602
Published: January 2013
Publisher: Christopher Stoakes Ltd
Country of Publication: UK
Format: Paperback
Price: Out of print

This book is aimed prinncipally at young, front-line fee-earning professionals in the City - bankers, brokers, fund managers, lawyers, accountants, insurance brokers, surveyors, actuaries, PRs, recruiters and headhunters, among others, starting out on their careers.
But it's also for support staff such as secretaries, PAs and business managers as well as people in mid-office and back-office functions such as Accounts, HR. IT, Business Development, PR, compliance, settlement and custody - in other words. professionals who are specialist in their own jobs but need to understand what the fee earners do in order to support them in their roles. That's because for City institutions to compete these days. all of then people need to understand the business.
But this book is designcd to be simple. So it's also for students at school, college or university who are thinking of working in the City or need to understand it for their studies.
This book isn't restricted to the young and inexperienced either The course on which it's based has been delivered by me to a room full of regulators. Nor just to those in the city- any people based outside London need to know what goes on in the City because it affects their work or their clients or their pensions.