His Honour - My Honour: Memoirs of a Circuit Judge and His Court Cases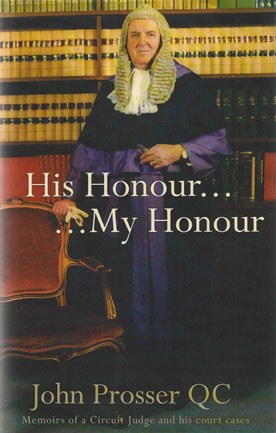 ISBN13: 9780957518704
Published: January 2012
Publisher: Priodas Press
Country of Publication: UK
Format: Paperback
Price: £12.95

September 2016: Possibly Out of Print - Not Sure Yet
In His Honour ... My Honour, John Prosser QC tells of the complexities of human nature as seen by him through his court cases, where he saw and heard the bad and the sad people of society. He gives the inside story on life at the Bar, with its ups and downs, its humour and frustrations.
He speaks about prosecuting a cruel coldblooded fifteen-year-old who killed his grandmother because she would not reveal where she had hidden her small savings. We meet the elderly couple who fought an armed intruder until he begged them to let him go. We hear about those who used their talent for good or greed.
In a long and eventful career, John Prosser met many Judges, some of whom he liked and some he disliked. This book gives his reasons why. In his sad experience, however hard you work, however successful you are as an advocate, if you are unlucky enough to cross a Judge with power over your career, you can whistle down the wind for promotion.
The book also outlines run-ins with the then Lord Chancellor, Lord Irvine, and sets the record straight with regard to pronouncements made in rape trials which were misrepresented and misconstrued, leading to a media storm.
John Prosser QC is the son of a Welsh farmer, a Pontypridd grammar school boy who took his law degree at King's College London in 1956 and who was called to the Bar at Gray's Inn. After service in the Royal Air Force he joined chambers in Cardiff where he developed a general practice before specialising in personal injury claims. He took Silk nineteen years later and practised from chambers in The Temple, London. Seven years later he was asked to sit as a Deputy High Court Judge and thereafter sat in The Royal Courts of Justice for seventeen consecutive years. In 1988 he was appointed a Circuit Judge. He retired in 2001.