The Articulate Advocate: New Techniques of Persuasion for Trial Lawyers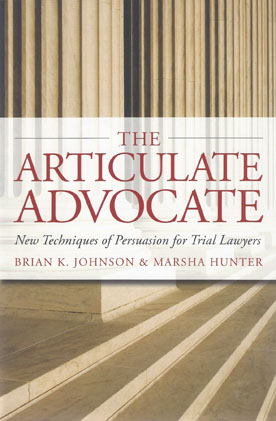 ISBN13: 9780979689505
Published: April 2009
Publisher: Crown King Books
Country of Publication: USA
Format: Paperback
Price: £21.99

Despatched in 6 to 8 days.
Other trial advocacy books teach you what to say in the courtroom; this book teaches you how to say it – persuasively.
The Articulate Advocate, an illustrated how-to guide, teaches lawyers how to speak persuasively and spontaneously in court. Johnson & Hunter's innovative techniques are based on more than 25 years of experience coaching practitioners.
They use cutting-edge discoveries in linguistics, human factors, neuroscience, gesture studies, cognitive and sports psychology to help advocates look, sound and feel natural and polished in court. The book provides immediately useful answers to common questions about channeling adrenaline, talking too fast, and remembering everything you need to say as you grab and hold your jury's attention.