Schemes, Takeovers and Himalayan Peaks: The Use of Schemes of Arrangement to Effect Change of Control Transactions 3rd ed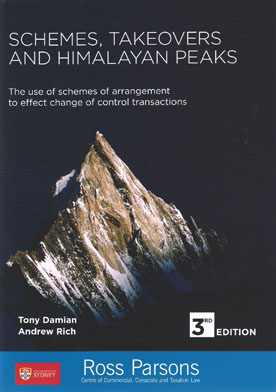 ISBN13: 9780987519108
Published: June 2013
Publisher: Ross Parsons Centre of Commercial, Corporate & Taxation Law
Country of Publication: Australia
Format: Paperback
Price: £145.00

Despatched in 8 to 10 days.
Schemes, Takeovers and Himalayan Peaks is the leading Australian book on the use of schemes of arrangement to effect changes of control of listed and widely held Australian companies.
Written by Tony Damian and Andrew Rich, two experienced public M&A partners at international law firm Herbert Smith Freehills, the third edition provides a comprehensive review of the law and practice of schemes of arrangement and a detailed examination of the policy and regulatory issues relevant to this dynamic area.
Some of the areas covered include:-

scheme of arrangement approval process and procedure
class and interest regimes
transaction and Court documents required for a scheme
break fees, exclusivity arrangements, call option agreements and voting agreements
use of schemes to effect reverse takeovers, joint bids, demergers, reconstructions and amalgamations
interpretation and application of s 411(17) of the Corporations Act
creditors' schemes and the use of 'loan to own' acquisition strategies
trust schemes
alternative forms of consideration, such as contingent consideration and stub equity
comparison of schemes with Chapter 6 takeover bids
scheme and merger regimes in England, Delaware, Canada, Europe, New Zealand, Hong Kong, Singapore and South Africa.

The third edition substantially updates the second edition (published in 2009), with around 750 pages citing more than 380 new decisions of the Courts and the Takeovers Panel.

Schemes, Takeovers and Himalayan Peaks is an essential companion for corporate lawyers, barristers, investment bankers, company executives and others involved in change of control transactions. It is useful for students and those interested in the policies that underpin the regulatory framework surrounding change of control transactions in Australia.