The Deprivation of Liberty Safeguards (DoLS) Handbook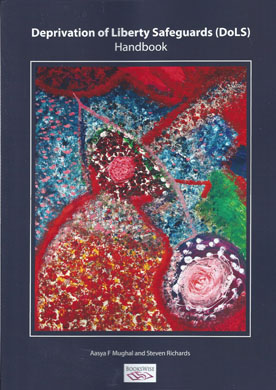 ISBN13: 9780993132407
Published: November 2015
Publisher: Books Wise
Country of Publication: UK
Format: Paperback, A4
Price: £19.50

Despatched in 6 to 8 days.
The Deprivation of Liberty Safeguards (DoLS) Handbook is designed to provide a clear and detailed explanation of DoLS. It is written in an accessible and practical format to be of maximum use to health and social care staff so they can be confident using DoLS in daily practice.
It is the most complete and up to date guide on DoLS in practice currently available. The handbook is written by Steven Richards and Aasya F Mughal (barrister) authors of two highly popular books Working with the Mental Capacity Act 2005 and Working with the Mental Health Act.
Both Steven and Aasya train health and social care professionals (including DoLS assessors and authorising signatories) around the country on the Mental Capacity Act and DoLS and have used this experience to produce a book that answers the most commonly asked questions on DoLS in practice.
Although DoLS is currently under review there is no plan to change the legislation before 2018 at the earliest. Until then staff working in health or social care settings and DoLS assessors need a clear and practical guide on its use and application in practice. This handbook is written to meet that need.