Banks on Sentence 11th ed: Volumes 1 and 2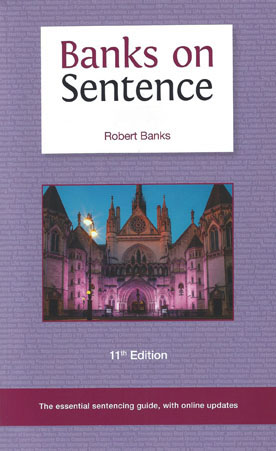 ISBN13: 9780993202230
Published: April 2016
Publisher: Robert Banks
Country of Publication: UK
Format: Paperback, 2 Volumes
Special Offer: Out of print
(Usual price £118.00)
Banks on Sentence is the second largest selling criminal practitioner text book. It is used by judges, barristers and solicitors for sentencing matters in the Magistrates' Court, Crown Court and Court of Appeal.
Volume 1 contains all the relevant material for understanding sentencing orders and procedures.
Volume 2 contains all the relevant guidelines, cases and sentencing material to enable judges, magistrates and practitioners to determine the sentence for almost all prosecuted offences.
The 11th edition includes:
The Theft Guideline 2016
The Robbery Guideline 2016
All the Serious Crime Act 2015 changes with their commencement dates
Expanded historical and child sex chapters
(all with the commencement dates in the relevant paragraph).