European Union Law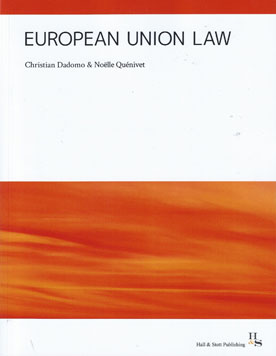 ISBN13: 9780993336508
Published: November 2015
Publisher: Hall and Stott Publishing Ltd
Country of Publication: UK
Format: Paperback
Price: Out of print

European Union Lawis a textbook borne out of experience in designing and delivering EU law courses on the Graduate Law Diploma and the LLB.
The book fully explores the core areas of the subject whilst setting them in a contextual and practical framework too. It is designed with the specific view to be used by GDL and LLB (especially those on a fast-track degree) students and to facilitate the student's understanding of the subject. Its writing style is accessible to all.
Key cases are summarised and explained in discrete boxes whilst the law is abundantly illustrated with diagrams, tables, and other visual aids. To show how the law applies in reality, hypothetical scenarios are presented and examined in separate boxes. At the end of each chapter, summaries enable students to remember the main relevant points and, to encourage them to engage further with the law, there are suggested reading lists.
The Authors:-
Christian Dadomo is a senior Lecturer in Law at the University of the West of England since 1990. He co-teaches European Union law in the second year of the LLB degree and the GDL, and International Competition Law and Policy and European Environmental law and Policy on the LLM programmes.
Noelle Quenivet is an Associate Professor and Head of the International Law and Human Rights Unit at the Faculty of Business and Law of the University of the West of England. She teaches European Union Law, Public International Law and International Humanitarian Law.