Equity and Trusts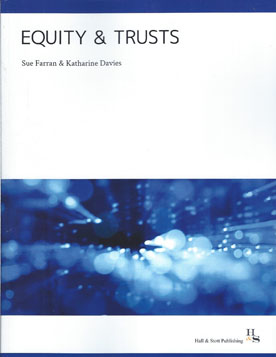 ISBN13: 9780993336539
Published: August 2016
Publisher: Hall and Stott Publishing Ltd
Country of Publication: UK
Format: Paperback
Price: £29.99

Equity & Trusts is written for LLB and GDL students, providing them with all they need to understand the complexities of the English law of equity and trusts in principle and in practice, while also providing them with insights into some of the debates that surround this area of the law.
Written by two authors from Northumbria Law School with extensive experience of teaching this core subject, and with leading practitioner input to reinforce the practical application of equity and trusts, this text sets out to help students appreciate the context behind the subject and become confident in their ability to solve problems.
Equity & Trusts draws on the primary sources of case law and legislation and guides the reader through the early developments of equity to its contemporary relevance. By focusing on the equitable institution of the trust, the book sets out, in clear and accessible language, the formation and function of different trusts, the roles, rights and responsibilities of those involved and the remedies that may be available when things go wrong.