Employment Tribunal Remedies Handbook 2017-18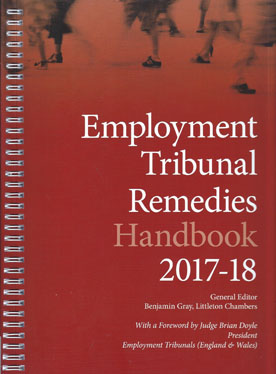 ISBN13: 9780993583636
Published: August 2017
Publisher: Bath Publishing
Country of Publication: UK
Format: Paperback, A4 Spiral Bound
Price: Out of print

The Employment Tribunal Remedies Handbook is the definitive, annual handbook to the financial remedies available in employment claims and has also been cited in the EAT (Shifferaw v Hudson Music Co Ltd UKEAT/0294/15/DA).
This new edition has been fully updated to factor in the very latest rates and compensation caps that came into force in April 2017 plus the key cases and legislative developments of the past 12 months.
Covering over 100 topics from ACAS to Zero-hours Contracts, each entry provides a potted summary of the relevant law, facts and figures so the reader can quickly find the answers to questions such as:-
Basic Award: what adjustments can be applied and in what order?​
Contributory Fault: what heads of loss can be reduced?
Ex Gratia Payments: when can they be deducted from a compensatory award?
Grossing up: how and when should this be calculated?
Injury to feelings: does the Simmons v Castle uplift apply?
Protective Awards: does the limit on a week's pay apply?
The text is crammed with worked examples, so you can see clearly how the law would be applied, and a collection of essential tables makes it easy to double-check the latest relevant ​
Published in A4 for maximum portability, the book is re-issued annually to ensure that it is up to date so you can rely on it in any negotiation, mediation or hearing.