Forensic Ballistics in Court: Interpretation and Presentation of Firearms Evidence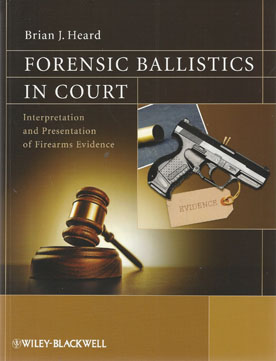 ISBN13: 9781119962687
Published: April 2013
Publisher: John Wiley & Sons Ltd
Country of Publication: USA
Format: Paperback
Price: £45.00

Despatched in 2 to 4 days.
Forensic Ballistics in Court: Interpretation and Presentation of Firearms Evidence is an accessible introduction to firearms and ballistics evidence and how this is analysed and presented as evidence in a court of law.
The book contains little or no coverage of the history and development of weapons, ammunition and forensic technologies but rather approaches the subject in terms of the realities of case work. Opening with a clear explanation of the correct nomenclature for various weapon types and their parts, illustrations help to clarify the names of the various components of these weapons.
Ammunition is also extensively covered, again with annotated illustrations. Basic external and terminal ballistics, wounding capabilities are likewise covered to give an overview of the subject. The book is not intended to provide a detailed examination of all aspects of firearms and ballistics and should the reader need more detail on the subject reference is made to The Handbook of Firearms and Ballistics also authored by Brian Heard.
A key aspect of the book covers the theory and philosophy behind striation matches and the associated statistics, how positive matches should be peer reviewed and the importance accreditation has on this subject. Gunshot residue formation and identification and the various methods used in its analysis are reviewed in depth.