Asylum Law in the European Union: From the Geneva Convention to the Law of the EU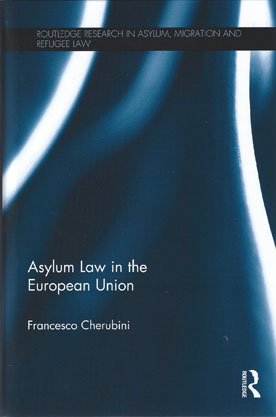 ISBN13: 9781138242753
Published: November 2016
Publisher: Routledge
Country of Publication: UK
Format: Paperback (Hardback in 2014)
Price: £34.99

This work examines the rules governing the right to asylum in the European Union. The book analyses a number of sources of law including international law, EU law and the case law of the European Court of Human Rights.
The book considers the 1951 United Nations Convention relating to the Status of Refugees and the 1967 Protocol in order to understand the degree to which asylum obligations under international refugee law have been incorporated into the European Union. The book has a particular focus on the prohibition of refoulement the main obligation the EU law must confront.
The dual nature of this principle is explored looking at both the obligation imposed upon a state to provide a fair procedure to determine the conditions of risk in the country of origin or destination, and also the obligation to refrain from or to respond to a possible expulsion. Through this investigation the book sheds light on the EU competence on asylum in relation to the different position of Members States.