Jurisdiction and Arbitration Agreements in International Commercial Law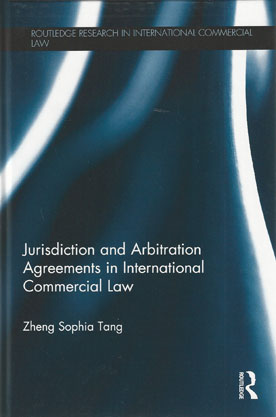 ISBN13: 9781138665538
Published: March 2016
Publisher: Routledge
Country of Publication: UK
Format: Paperback (Hardback in 2014)
Price: £34.99

When deciding how and where to resolve disputes that have or may arise parties in international civil and commercial relationship make agreements separate from the main contract which determine either the choice of court or the form and procedure arbitration will take.
Both types of agreement have specific contractual requirements for their formation, incorporation and validity, provide certainty for commercial parties, have the prorogation effect to make the chosen forum competent and have the derogation power to deprive any otherwise competent fora their jurisdiction. Because of the similarities between the two types of procedural autonomy agreements, they are often treated in a similar way by courts and practitioners.
The Convention on the Recognition and Enforcement of Foreign Arbitral Awards, also known as the New York Convention which requires the courts of contracting States to give effect to private agreements to arbitrate as well as recognizing and enforcing arbitration awards made in other contracting states has proved very successful since it entered into force in 1959. In 2005 the Hague Convention on Choice of Court Agreements was concluded and opened for ratification. This aims to become the litigating counterpart to the New York Convention and it is presumed that since exclusive jurisdiction clauses have similar functions to arbitration agreements that the Hague Choice of Court Convention should achieve similar success.
This book offers a systematic and comparative study on the prerequisites, effectiveness, and enforcement of exclusive jurisdiction and arbitration agreements in international dispute resolution in order to determine whether the clauses have the identical effects in private international law.
The book also investigates whether they have or should be given the same treatment by most countries in the world. The book compares the treatment of jurisdiction and arbitration clauses in the US, China, the UK and the EU with the use of empirical evidence to demonstrate how in practice exclusive jurisdiction and arbitration agreements are enforced. In light of all this the book considers whether the Hague Convention could be treated as a litigating counterpart of the New York Convention and whether it could work successfully to facilitate judicial cooperation and party autonomy in international commerce.