Ecological Restoration in International Environmental Law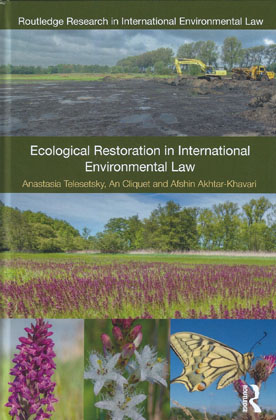 ISBN13: 9781138796836
Published: December 2016
Publisher: Routledge
Country of Publication: UK
Format: Hardback
Price: £90.00

As a result of dramatic anthropogenic harm in our lifetimes, ecologists have been actively refining the concept of ecological restoration as a practice for revitalizing, reinvigorating and bringing life back to ecosystems or parts of nature.
Given climate change and more broadly the potential of the idea that planet earth is in the Anthropocene Epoch, it is now popular across a number of academic fields to talk about ecological restoration, rewilding, and more generally constructing and building novel or historically authentic ecosystems and environments. However, little has been written about the relationship between the institutions of law and the practices of ecological restoration.
Ecological Restoration in International Environmental Law fills this lacuna by making one of the first sustained contributions to exploring the way that law - in particular international and European law- contributes to the practice of ecological restoration.
This book explores questions involving the potential of law to contribute to ecological restoration, including an examination of ethical, political, or moral values inherent in the concept of ecological restoration, and analyses whether the legal concept and practice of restoration challenge other procedural or substantive concepts in environmental law.
This book will be of great interest to students of international environmental law, global environmental governance and conservation law, and policymakers working in the field of ecological restoration.