Constitutional and Administrative Law 11th ed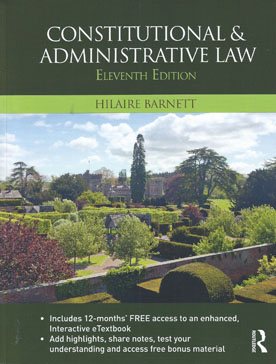 ISBN13: 9781138814769
Published: July 2015
Publisher: Routledge
Country of Publication: UK
Format: Paperback + Online
Price: Out of print

Trusted by students and academics for 20 years! Hilaire Barnett's Constitutional and Administrative Law has provided generations of students with reliable, accessible and comprehensive coverage of the Public Law syllabus.
Constantly updating and evolving, it is now accompanied by a range of interactive resources designed to support the teaching and learning needs of today's digital world. Mapped to the common course outline, it equips students with an understanding of the constitution's past, present and future by analysing and illustrating the political and socio-historical contexts which have shaped the major rules and principles of public law, as well as on-going constitutional reform.
With 12 months' free access to an enhanced electronic version, the interactive eTextbook brings the benefits of digital to the text - searching, online, offline and mobile access, interactive exercises and note-sharing are just some of the features available with this 11th edition.
Key features of the interactive electronic textbook:-
One-click access to the cases on LexisNexis and the statutes on the government's legislation archive with over 1,000 embedded hyperlinks in the text
End of chapter interactive exercises which enable students to assess their understanding and progress and diagnose areas of weakness
An Interactive timeline that provides instant access to essential context on how the constitution has developed historically and politically to the present day
All the latest news and case notes on Constitutional and Administrative Law from the Student Law Review, plus bonus 'In Focus' case studies
A comprehensive bank of essay questions to help students prepare for assessments
The ability to make notes and highlight key sections of the text and to share your notes with the class or your instructor