Silenced Victims of Wartime Sexual Violence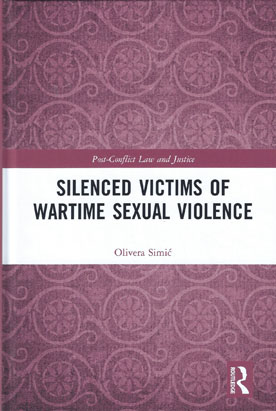 ISBN13: 9781138918627
Published: March 2018
Publisher: Routledge
Country of Publication: UK
Format: Hardback
Price: £115.00

The condemnation of wartime sexual violence as a gross violation of human rights has received widespread support. While rape and other forms of sexual violence have attracted considerable local and international attention, this often excludes wartime sexual violence among women belonging to so-called 'perpetrator' war-torn nations.
This book explores the silence surrounding women's experiences of wartime sexual violence within academic, legal and public discourses. Olivera Simic argues that the international criminal law and feminist legal discourse on wartime sexual violence can construct a problematic victim hierarchy that excludes and misrecognises certain women's experiences of sexual violence during and after armed conflict.
The book focuses on the experiences of Bosnian Serb women, where the collapse of the former Yugoslavia led to brutal war and gross human rights violations throughout the 1990s. Two decades after the war, women in Bosnia and Herzegovina are still facing the legacies of the 1990s violence. Through this case Simic argues that while all women survivors of rape face problems of stigma, shame and lack of political visibility, their legal and symbolic status differ according to their ethno-national identity.
Drawing on interviews with Serb women survivors of rape in BiH, local media, documentary and archival sources, the book examines 'post-conflict justice' as it is seen, lived and interpreted by women who belong to 'perpetrator' nations and will be great interest and use to researchers, students and practitioners within post-conflict law and justice, international criminal law, security studies and gender studies.