Butterworths Insolvency Law Handbook 14th ed: 2012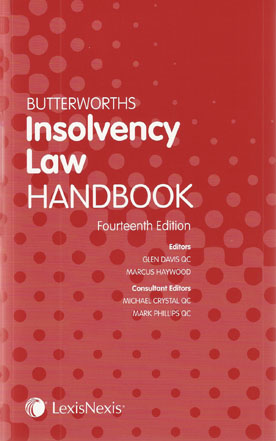 ISBN13: 9781405769372
Published: May 2012
Publisher: LexisNexis Butterworths
Country of Publication: UK
Format: Paperback
Price: Out of print

Butterworths Insolvency Law Handbook is the most comprehensive single collection of statutory source material and Practice Directions relating to insolvency law in England, Wales and Scotland.
Published annually, it is regarded as the essential reference work for all insolvency practitioners, setting out the relevant texts of the most important statutes, statutory instruments and European legislation. The legislation is printed as currently in force (taking into account all amendments, repeals and revocations), with detailed technical annotations regarding commencement, cross-references to other legislation and to commencement tables and fees and forms tables where necessary.
This text is the essential reference source for lawyers, accountants, insolvency practitioners, regulators and students.
Three reasons why Butterworths Insolvency Law Handbook is essential:-
Comprehensive source of EU & UK legislative material and Practice Directions in one volume - saves you time researching an issue
Coverage of key aspects of insolvency - make informed decisions to help win your case; advise your clients; co-ordinate all the different features of insolvency easily; review accounts and brief clients accordingly
User-friendly chronological format, with topics dealt with individually - find the answers you're looking for quickly and effortlessly.