Bennion on Statutory Interpretation 5th ed: 2nd Supplement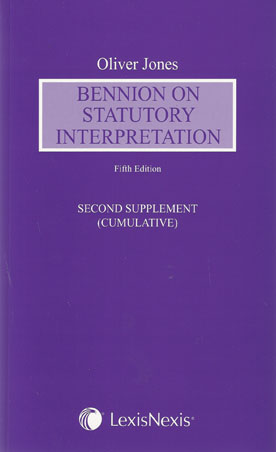 ISBN13: 9781405782319
Published: November 2012
Publisher: LexisNexis Butterworths
Country of Publication: UK
Format: Paperback
Price: Out of print

Bennion on Statutory Interpretation is the leading work on the interpretation of legislation and essential reading for all those who deal in black letter law, whether drafting, administering, advising on, or arguing about, legislation in court.
Since the last supplement was published in mid-2010, there have been several important judgments concerning statutory interpretation including:-
updating construction of the word "violence" in Yemshaw Hounslow LBC [2011] UKSC 3;
application of the presumption of tacit legislation in R v Williams [2010] EWCA Crim 2552;
regard to principle against extra-territorial application in Serious Organised Crime Agency v Perry [2010] EWCA Civ 907.
Significant legislation has also been passed by Parliament or has commenced since 2010. Much of this legislation is significant for the topics considered in Bennion, including:-


Bribery Act 2010 c. 23;
Constitutional Reform and Governance Act 2010 c. 25.
Equality Act 2010 c. 15.