Tolley's Customs and Excise Duties Handbook Set 2015-16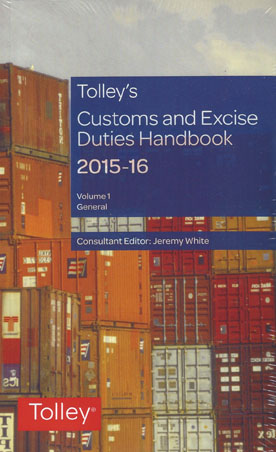 ISBN13: 9781405798051
Published: December 2015
Publisher: LexisNexis Butterworths
Country of Publication: UK
Format: Paperback, 6 Volumes
Price: Out of print

Tolley's Customs and Excise Duties Handbook 2014-15 combines the content from both the Customs Duties Handbook and the Excise Duties Handbook. Published as a brand new six-volume work, CDEH 2015-16 covers all the up-to-date legislation on the key areas for customs and excise practitioners.
The six volumes are arranged as follows: 1: General 2: Customs 3: Product Duties (alcohol, tobacco, hydrocarbon oils) 4: Environmental Taxes (landfill tax, climate change levy, aggregates levy, air passenger duty) 5: Betting and Gaming Duties 6: Vehicle Excide Duty (VED)
Volume 1 is an essential quick reference guide to the most commonly used legislation, ideal for taking to court or client meetings. Volume 2 provides the essential UK and EU legislation relating to customs duties, including the new Union Customs Code in full. Volumes 3 to 6 cover the specific duties.