How Parliament Works 6th ed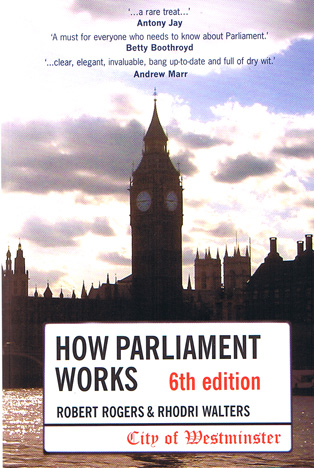 ISBN13: 9781405832557
ISBN: 140583255X
Published: August 2006
Publisher: Pearson Education Ltd
Country of Publication: UK
Format: Paperback
Price: Out of print

How Parliament Works has established itself as an unofficial bible for everyone interested in Parliament - for those who study the institution for degrees in politics or at AS or A level; for civil servants, lobbyists, journalists, witnesses before select committees and all whose work brings them into contact with Parliament; for constituents who want to know how they are represented and how their problems can be addressed; for those in the UK and overseas who want to know more about the workings of the institution; and for members, especially new members, of both Houses.
Although Parliament is constantly in the news and televised daily, much of its work remains a mystery to outsiders and is sometimes perplexing even to its own members. This book provides a unique insight into the work and daily life of Parliament. It sets out plainly and intelligibly what goes on and why things happen, but it also analyses the pressures within the institution, its strengths and weaknesses, and ways in which it might change.
A standard textbook, now entirely rewritten, it covers every aspect of the work, membership, and structures of both Houses, and also reflects the profound changes in Parliament over the last five years, including the 'transitional' House of Lords, following the rejection of proposals for an elected element; the effects of devolution and the Human Rights Act; the programming of bills and many other significant changes in the Commons; and the relationship between Parliament and the European Union in the context of impending European constitutional change.