The Jurisprudence of Lord Denning: A Study in Legal History Volume II: The Last of England: Lord Denning's Englishry and the Law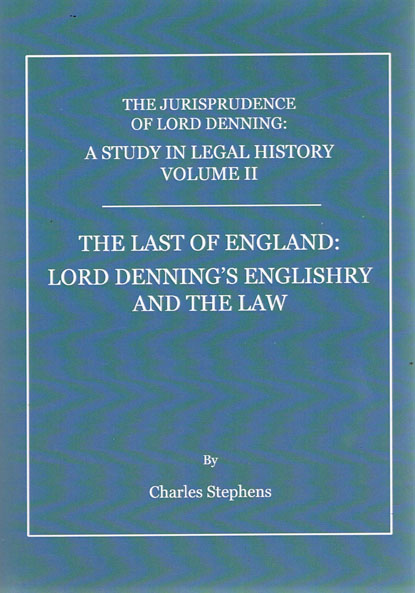 ISBN13: 9781443812450
Published: September 2009
Publisher: Cambridge Scholars Publishing
Country of Publication: UK
Format: Hardback
Price: £39.99

Despatched in 12 to 14 days.
Buy The Budled Set In Three Volumes
When Lord Denning died in 1999, the leader writer of the Daily Telegraph wrote of 'a deep and almost tangible 'Englishness' which 'shone through many of Lord Denning's celebrated judgments. He was patriotic, sceptical and humane; intelligent without being intellectual'.
Since 1999, the nature of English identity has become the subject of debate and contention, not only within the academy, but also in politics and the media. In some respects, it could be argued that the debate about English identity is one of the most important in contemporary Britain.
The Last of England considers the role of Englishness in the jurisprudence of Lord Denning, setting his conception of the role of the judiciary in the constitution, his views about the nature of history, the land and war, his understanding of equity, in particular the way in which he developed the doctrine of estoppel, his attitudes towards immigration and race and his approach to the law of the European Community in the context of the developing debate about the nature of English identity.
Charles Stephens was educated at Shrewsbury School and New College Oxford, of which he was a Scholar. He has been awarded an MA in Modern History by the University of Oxford and an LLB and PhD by the University of London. He is currently a Lecturer in Law at the Open University and Head of Politics at Queen's College, Harley Street. Since 1985, he has been engaged in research on the history of Britain between 1945 and 1979. His study of the jurisprudence of Lord Denning is the first fruits of that research.