The Jurisprudence of Lord Denning: A Study in Legal History Volume III: Freedom under the Law: Lord Denning as Master of the Rolls, 1962-1982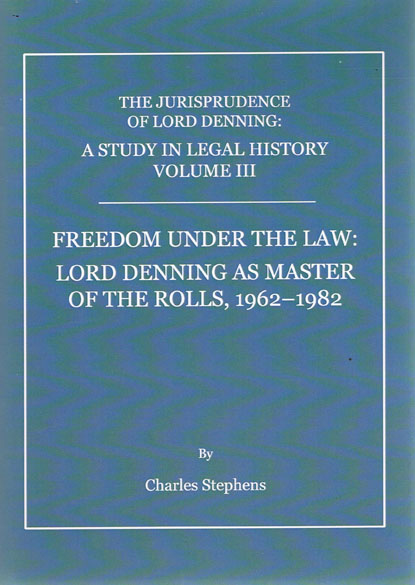 ISBN13: 9781443812467
Published: September 2009
Publisher: Cambridge Scholars Publishing
Country of Publication: UK
Format: Hardback
Price: £39.99

Despatched in 6 to 8 days.
Buy The Budled Set In Three Volumes
In his book Law and Politics: The House of Lords as a Judicial Body 1800-1976 Robert Stevens wrote that Lord Denning was 'certainly the most interesting and possibly the most important English judge of the twentieth century'. Stevens also suggested that Lord Denning was one of the 'few English judges who clearly merits an extensive intellectual biography'.
Freedom under the Law essays this task by setting the jurisprudence of Lord Denning in the context of the history of the 1960s and 1970s; assessing his writings about the law and examining his role in the Profumo affair and other major political and legal controversies of that era.
Lord Denning's approach to matters such as religion, education, the currency, the Empire, the Union, national security, the status of aliens and foreigners, social change, the family, the rights of trades unions and the role of the courts in the regulation of industrial conflict and the City of London are examined in the course of a detailed consideration of the judgments which he handed down in the Court of Appeal between 1962 and 1982.