Attorney's Guide to Document Examination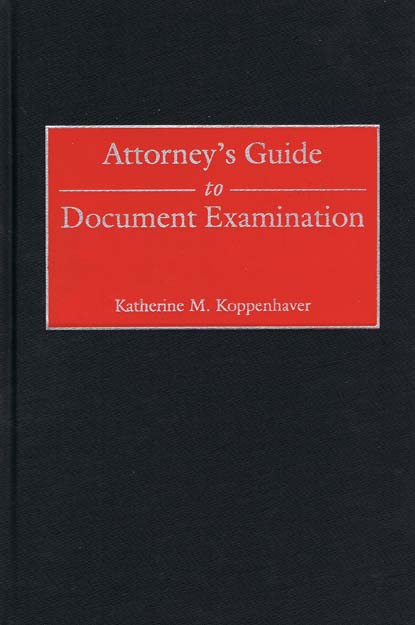 ISBN13: 9781567204704
ISBN: 1567204708
Published: December 2001
Publisher: Greenwood Press
Country of Publication: USA
Format: Hardback
Price: £70.00

Usually despatched in 1 to 3 weeks.
When the authenticity of a document is in question in the courtroom, forensic document examiners are brought in to determine such things as whether a signature has been forged, whether the document has been altered, and whether it is all things it purports to be. The examination of suspect documents generally involves comparison with examples of known genuine writing.
Attorneys need to know how to select appropriate comparison documents for forensic document examiners. This is but one of the many skills that attorneys must develop in order to benefit fully from their collaborations with forensic document examiners, and it is explained here in detail. So, too, are the basic principles of handwriting identification, the knowledge of which enables lawyers to challenge incorrect statements. This comprehensive and thorough guide for attorneys also explains what document examiners can and cannot determine based on the evidence, and it provides a thorough grounding in how to prepare for court and deposition testimony.
Among the many unique features of this attorney's guide is an extensive list of questions for lawyers to ask their own, and their opponent's, expert witnesses before going to trial. The deposition of a forensic document examiner includes questions relating to the examiner's experience, working methodology, background and education, knowledge base, certifications, achievements, and many other items relating to the examiner's abilities. Next, an extensive set of questions helps lawyers ask for the right information pertaining to the examiner's specific methods of preparation for the case at hand.
After the deposition is taken, the expert must be qualified in court; this book includes 60 qualifying questions. After qualification, it is time to move on to questions about document examination and the case being litigated. Finally, new questions pertaining specifically to the cross-examination of document examiners are presented, once again relating to credentials and a given case.
This valuable resource concludes with a chapter describing the relevance of various court citations involving handwriting. Appendices are devoted to suggested reading; a resource list of experts related to the field, including photographers, librarians, and appraisers; organizations; and a glossary of technical terms.