The Reports of Sir Edward Coke in Thirteen Parts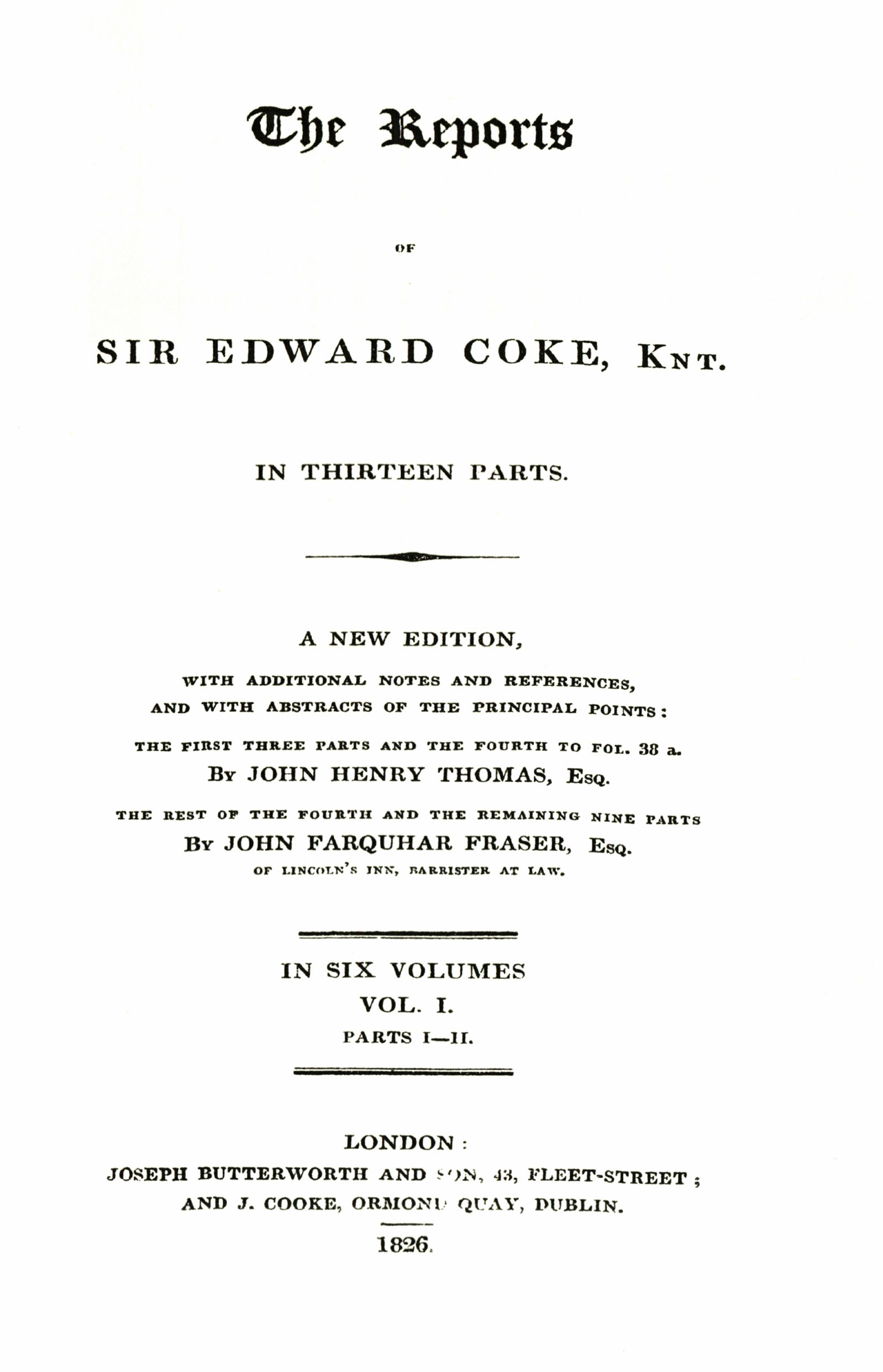 ISBN13: 9781584772392
Published: June 2011
Publisher: The Lawbook Exchange Ltd
Country of Publication: USA
Format: Hardback, 6 Volumes
Price: £375.00

Despatched in 12 to 14 days.
The Reports of Sir Edward Coke, Knt. In Thirteen Parts.
Thirteen books reprinted in 6 Volumes in 1826 by J. Butterworth and Son and then by The Lawbook Exchange, 2002 & 2011
"The best and last [edition], which has superseded all older ones, is in English; the whole thirteen Parts in 6 vols. 8vo. London, 1826." Wallace 194-195.
This edition is also noteworthy for the inclusion of Coke's complete prefaces. Sir Edward Coke [1552-1643] was considered to be the greatest legal practitioner of his day. Written between 1572 and 1616, The Reports are not reports in the conventional sense but highly detailed anthologies of precedents organized according to the cases they consider.
In each instance Coke assembled a large body of cases, outlined their arguments, and explained the reasons for the judgment, using it as a basis for a statement of general principles. They are, in effect, a series of treatises on the points of law adjudged, and not merely notes for citation.
Taken together The Reports form the most extensive and detailed treatment of Common Law pleading that had yet appeared. A work of immense authority, it was often cited as The Reports there being no need to mention the author's name.
His accounts, especially of pleadings, were applauded for both their clarity and usefulness as stylistic models for students. And his selection of cases, cited frequently in subsequent years, has served as the starting point for numerous decisions. He also attracted some powerful enemies, however, principally James I, who was angered by some of his opinions concerning royal prerogative. Coke's refusal to retract them and apologize to the King cost him his seat on the Bench.
The Reports
Of
Sir Edward Coke, Knt.
In Thirteen Parts
~
A New Edition
With Additional Notes And References,
And With Abstracts of The Principal Points:
The First Three Parts And The Fourth To Fol, 38 a.
By John Henry Thomas, Esq
The Rest of the Fourth And The Remaining Nine Parts
By John Farquar Fraser, Esq
Of Lincoln's Inn, Barrister At Law
~
In Six Volumes
London
John Butterworth And Son, 43, Fleet-Street,
And J. Cooke, Ormond Quay, Dublin.
1826