Confession Evidence: Practice & Procedure in the Commonwealth Caribbean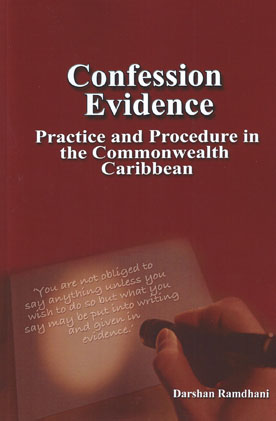 ISBN13: 9781606435878
Published: December 2008
Publisher: Aequitas Professional
Country of Publication: Grenada
Format: Paperback
Price: £80.00

Usually despatched in 1 to 3 weeks.
This new law book provides a step by step approach to understanding practical issues in relation to confession evidence in the region. The book is expected to be 'of enormous interest to judges, practitioners, police officers and law students' as it delves into a very crucial area of the criminal law.
Not only is the making of confessions brought under the microscope, but also the issues surrounding their admission and exclusion at trial. These issues are discussed with reference to both reported and unreported cases from the region, the Privy Council, the Courts of the UK, the Strasbourg Court and even beyond.
Whilst there is no doubt that the common law must evolve with reference to the social, economic and ploitical environment of the region, an argument is made throughout the text that these cases and the legislation in the UK, provide a good reference point for assessing, comparing and shaping present standards of fairnesss in the region.
As the earliest cases have shown, the role of the court must be to ensure that the right to be protected against self incrimination is given real respect. In this regard too attention has been given to the function of the court's exclusionary discretion in ensuring fairness.