HMRC Investigations Handbook 2015/16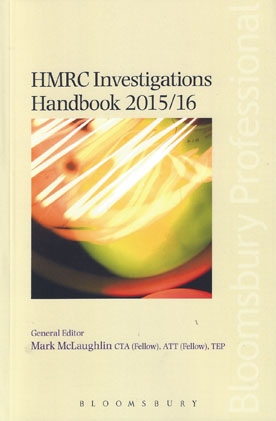 ISBN13: 9781780431710
Published: February 2016
Publisher: Bloomsbury Professional
Country of Publication: UK
Format: Paperback
Price: Out of print

HMRC Investigations Handbook 2015/16 follows the process of an investigation from the outset through to settlement.
Written by a range of high profile investigations specialists, this practical guide explains HMRC's approach to an investigation and outlines the steps practitioners must follow to ensure they are complying with statutory requirements and dealing with HMRC effectively, while also acting in their clients' best interests.
Structured into four user-friendly sections which address enquiries and investigations, the progress of an enquiry, practical issues and VAT, NIC and employment income, this useful resource allows quick access to relevant commentary on the various stages of the enquiry process.
This edition contains new chapters on: discovery; voluntary disclosures; debt collection and time to pay; accelerated payment notices and follower notices; and complaints about HMRC. Key content in the book includes:-
Special, criminal and tax avoidance investigations
Disclosure facilities and HMRC campaigns Selection for enquiry
Conduct of enquiries
Meetings with HMRC
Alternative dispute resolution
Private records - are they 'private'?
Business record checks and examinations
HMRC's information powers
Settlement negotiations and penalties
Tax appeals and HMRC reviews
While the number of HMRC enquiries and compliance checks seems to be increasing year on year, more individuals and small businesses are seeking help from accountants and tax advisers to deal with the process. This unique handbook provides an invaluable point of reference for all small to medium¬sized practitioners whose clients include those facing enquiries.