Manual of Accounting: IFRS for the UK 2014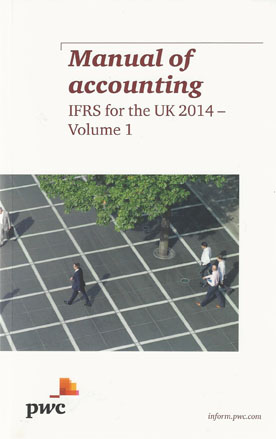 ISBN13: 9781780433059
Published: January 2014
Publisher: Bloomsbury Professional
Country of Publication: UK
Format: Paperback, 2 Volumes
Price: Out of print

PWC's Manual of Accounting: IFRS for the UK 2014 provides comprehensive guidance in the IFRSs issued by the International Accounting Standards Board (IASB) and the accounting requirements of UK law applicable to UK users of IFRS, as well as the other elements that make up IFRS for the UK.
The manual is packed full of clear and practical advice for UK groups and companies on preparing their financial statements in accordance with IFRS. It includes many practical worked examples and extracts from company reports that help to illustrate the explanations and show how even the most complex calculations and disclosures should be made.
Written by PWC's UK Accounting Consulting Services team of specialists, the manual will be of particular interest to finance directors, chief accountants and other concerned in preparing and using UK Company financial statements under IFRS. Analysts, academics and overseas readers will find it invaluable as a comprehensive description of IFRS for the UK.
Please note, guidance on financial instruments (previously available in the separate title Manual of Accounting: Financial Instruments is now incorporated into Manual of accounting IFRS 2014 Vol. 1.