Parker's Will Precedents 8th ed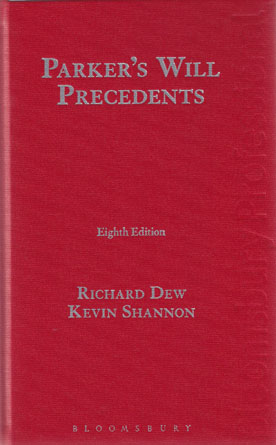 ISBN13: 9781780434940
Published: November 2014
Publisher: Bloomsbury Professional
Country of Publication: UK
Format: Hardback & CD-ROM
Price: Out of print

Recommended by the Institute of Professional Willwriters, Parker's Will Precedents, 8th edition (previous editions titled: Parker's Modern Wills Precedents) is a well established and highly regarded publication, renowned for its clarity of drafting.
The eighth edition provides private client solicitors and professional will drafters with a thorough understanding and working knowledge of the will drafting process and the ability to draft better wills.
Includes a CD-ROM of precedents.
Parker's Wills Precedents, 8th edition provides:
A comprehensive collection of precedents aimed at anyone who needs to draft wills;
A variety of precedents for individual clauses as well as a set of complete wills catering for different scenarios;
An emphasis on clarity, practicality and simplicity, so you can quickly draft legally sound wills for a variety of circumstances;
Notes and guidance on drafting and additional materials, including letters, support materials and extracts from relevant legislation.
Legislation and case law includes:


Hawes v Burges (2013);
Topciapski v Topciapski (2013);
Re Wilson (deceased); Turner v Phythian (2013);
Turner v Phythian (2013);
Kell v Jones (2013).