Property Taxes 2015/16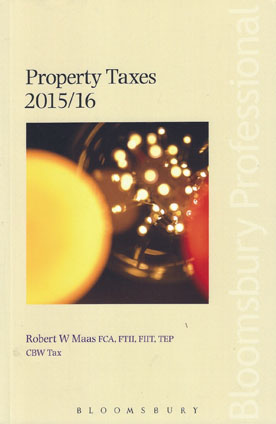 ISBN13: 9781780437842
Published: February 2016
Publisher: Bloomsbury Professional
Country of Publication: UK
Format: Paperback
Price: Out of print

This essential annual title provides clear advice and information covering all elements of the taxation provisions relating to land transactions.
Easy to use, lucid, and highly practical, Property Taxes 2015/16 enables tax practitioners to find the answers to their tax planning questions quickly and to keep their clients' tax liabilities to a minimum.
Everything you need to know about property taxes can be found in this book:-
Rents
Premiums
Relief for interest payable
Investment or dealing?
Tax aspects of property dealing
Tax aspects of property investment
Problems of development
Refurbishments
Allowances for capital expenditure
Tax on chargeable gains
Business occupation of property
Private residences
Artificial transactions in land
Use of overseas companies to acquire UK properties
VAT on residential property VAT on commercial property
Inheritance tax Stamp duty land tax
This fully updated edition features a comprehensive analysis of the new capital gains tax charge on residential properties owned by non-residents and the changes to the rules on principal private residence relief and ATED-related gains to give effect to this impost. It also covers the new inheritance tax residential nil-rate band. Many of the chapters have been substantially revised and re-ordered to try to improve the readability of the book.