Manual of Accounting: New UK GAAP 2nd ed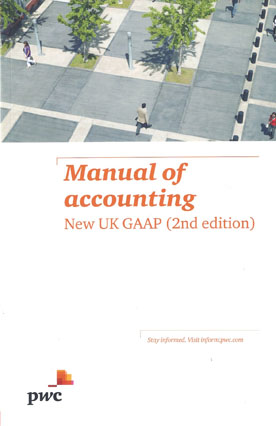 ISBN13: 9781780438054
Published: June 2015
Publisher: Bloomsbury Professional
Country of Publication: UK
Format: Paperback
Price: Out of print

PricewatehouseCoopers Manual of Accounting: New UK GAAP 2nd ed provides comprehensive guidance on the new accounting regime that applies in the UK following the issue of:-
FRS 100, 'Application of financial reporting requirements';
FRS 101, 'Reduced disclosure framework- Disclosure exemptions from EU-adopted IFRS for qualifying entities';
FRS 102, 'The financial reporting standard applicable in the UK and Republic of Ireland';
FRS 103,'Insurance contracts';
FRS 104,'Interim financial reporting';
Amendments to FRS 101 and FRS 102 issued in July 2014.
It includes details of the proposals to ensure consistency with the changes in law resulting from the EU Accounting Directive, in February 2015:-
FRED 58 - Draft FRS 105 The financial reporting standard applicable to the Micro-entities regime.
FRED 59 - Draft amendments to FRS 102 - Small entities and other minor amendments.
FRED 60 - Draft amendments to FRS 100 and FRS 101.
It also covers the accounting requirements of UK company law, as well as other elements that make up the new UK GAAP. The new standards apply from 2015.
The Manual offers a clear explanation of the new UK reporting requirements to help you implement the new requirements and deal with day-to-day issues as well as difficult issues under the new regulations gives up-to date guidance on the new UK GAAP, the Companies Act and relevant statutory instruments with practical worked examples to help illustrate the explanations.
Written by PwC's UK Accounting Consulting Services team of specialists, the Manual will be of particular interest to finance directors, chief accountants and others concerned with preparing and using UK GAAP and reduced disclosure company financial statements.