Mediation: An A-Z Guide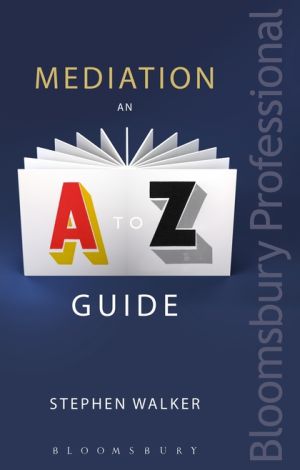 ISBN13: 9781780439969
Published: October 2016
Publisher: Bloomsbury Professional
Country of Publication: UK
Format: Paperback
Price: £24.99

Mediation: An A-Z is an accessible, practical guide to the terms used in mediation consisting of 360 alphabetical entries ranging from Absentees, Academy of Experts via Confidentiality and Contingency Fees to Zero Sum and ZOPA.
All types of mediation are covered: civil and commercial, family, workplace and community although the emphasis will be on civil and commercial. Whilst primarily based on UK material Mediation: An A-Z will draw on material from other countries, in particular USA, Australia/NZ, Nigeria and India.
This title has a practical approach as each listed term has an explanation and comment, symbols showing which type of meditation it has most relevance to, eg F = Family or W = Workplace or U = Universal, symbols showing any country for which it has especial relevance eg UK, USA, Aus, NG and any cases and legislation. The case name and reference and/or the relevant piece of legislation is provided in order to give the necessary pointers to those who would like more to find more information on a particular case or piece of legislation.
Mediation: An A-Z is an affordable and portable title which would benefit those practicing in, or interested in, mediation.