Constitutions Compared: An Introduction to Comparative Constitutional Law 4th ed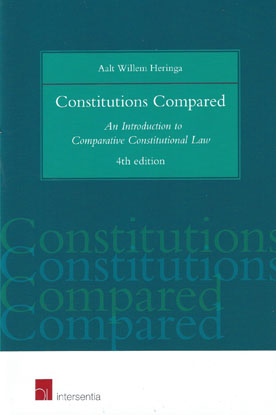 ISBN13: 9781780683997
Published: September 2016
Publisher: Intersentia Publishers
Country of Publication: UK
Format: Paperback
Price: £76.00

Usually despatched in 1 to 3 weeks.
The new edition of this handbook provides a user-friendly introduction to comparative constitutional law. For each area of constitutional law, a general introduction and a comparative overview is provided, which is then followed by more detailed country chapters on that specific area. In this fourth edition, the author has expanded several chapters to provide for even more detail on national legal systems and constitutional comparison. In addition, he has updated the discussion wherever necessary. Thus, this book most notably takes account of the new election system in Germany; the operation of the constitutional review procedure in France; the Scottish referendum and its aftermath in the UK; the new procedure for the formation of a government in the Netherlands; the discussion about the accession of the EU to the European Convention on Human Rights; and notably the effects on domestic constitutional law in the EU member states by EU membership, the EMU, the political dialogue between national parliaments and the Commission, the banking union and many other relevant developments. The EU has therefore more extensively been woven into this book, as a constitutional system per se and as an international organization which heavily impacts upon domestic constitutional law.
Now this successful book is a helpful guide for students who are for the first time exploring comparative constitutional law, and a solid foundation for more advanced graduate-level courses.