Project Financing 8th ed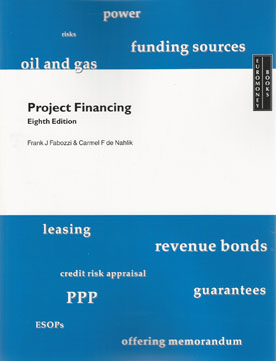 ISBN13: 9781781370704
Published: July 2012
Publisher: Euromoney Institutional Investor
Country of Publication: UK
Format: Paperback
Price: £199.00

Since the first edition was published, the financial markets have undergone tremendous upheavals and many new structures and instruments have been created to meet the financing needs of business.
This edition considers the wider world of project finance, applicable to such diverse situations as venture capital and leveraged buyouts, and using new approaches such as Islamic finance techniques.
The eighth edition is an essential and over-due update to the previous edition published in 2000. The eighth edition updates a comprehensive review of financial and related topics which are relevant to project financing in 2012 and explores current trends in financial modelling of a project, risk management and the private finance initiatives.
This is a comprehensive and practical book full of advice and tips for successful project financing, including leasing, offering a clear, easy to understand guide to a complex area with examples. The topic coverage is well organized and complete – moving from the fundamentals to the more complex issues. There is an extensive glossary to support readers. Finally the use of 12 practitioner case studies brings many of these complex issues to life.
This is the new edition of the clear, easy-to-understand industry-standard text on project financing. With a good overview of a broad area and using principles of project financing to explain complex structures, this book includes lots of examples and case studies (including Eurotunnel, Dabhol, multiple Paiton deals and other recent deals along with subsequent developments) to show the concepts in use, examine outcomes and to ensure you understand important issues such as effective project structuring and financing, financial modelling for project valuation, and risk management.
Substantially updated and expanded to provide the latest developments in all aspects of project financing. An important manual reference, this book is a must-have for every project financier's desk.
New topics include:-
Financial models
Financial modeling for different industries
Overview of risk management
Controlling risk via swaps
Controlling risk via options, caps and floors
Alternative risk techniques
Public private partnership/private finance initiatives
Cases studies