Litigating Trust Disputes in Jersey: Law, Procedure and Remedies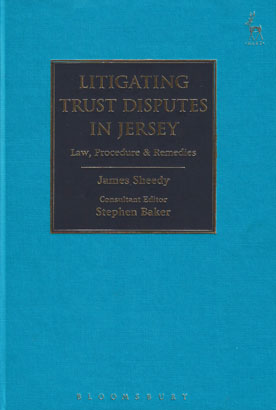 ISBN13: 9781782256809
Published: February 2017
Publisher: Hart Publishing
Country of Publication: UK
Format: Hardback
Price: £295.00

This book is the first comprehensive guide to litigating trust disputes in Jersey, covering law, procedure and remedies, by practioners at a leading commercial Jersey law firm.
It expertly explains the enormous body of case law and custom on many important practical elements of the Island's litigation procedure, which remain un-codified and are not available to the public and are largely inaccessible.
It analyses the complex rules for the commencement and service of proceedings, both on and off the Island, and the largely case law based rules of limitation, which are not easy to navigate and which merit close examination.
Other significant features of Jersey's jurisdiction are explained: it is highly active in relation to the variation of trusts and directions to trustees, which are subject to the Island's own trust law and procedure, and frequently allows private hearings, which are a complex and controversial phenomenon.
The book is therefore an indispensable tool for any practitioner whose client is either a protector/enforcer, a trustee or a beneficiary that has an exposure to Jersey; matrimonial lawyers seeking trust information or trust documents for the purposes of ancillary relief or analogous proceedings and Foreign law enforcement authorities and insolvency practitioners seeking asset recovery against assets subject to trusts with a connection to Jersey.