The Lawyer's Guide to AFAs and Value Pricing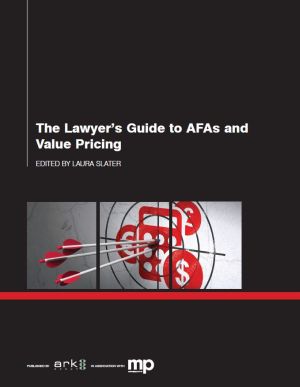 ISBN13: 9781783581290
Published: March 2014
Publisher: Ark Group
Country of Publication: UK
Format: Paperback, A4 (96 pages)
Price: £145.00

Alternative fee arrangements are now a recognised aspect of legal work and many clients now expect firms to offer them.
But many lawyers still lack the skills to negotiate and manage AFAs in a way that benefits both parties, and the risk of losing clients to firms skilled in this area increases as alternative fees becomes more mainstream.
This report provides practical guidance to help lawyers adapt to client demands for AFAs and offers and offers expert advice in negotiating and managing AFAs and value fees.
Specifically, this report tackles how to :
Determine, develop and implement coherent pricing strategies
Negotiate fees and deliver value to clients and in-house lawyers
Establish the value of services and how to commoditize qualities such as experience and reputation
Maintain client satisfaction and acceptance of fee arrangements.
This new report features contributions and insight from the professions most prominent thought leaders in this area, including:


Chris Howe – Consultant, Raedbora Consulting Ltd.
Julious P.Smith Jr. – Chairman emeritus, Williams Mullen
Joel A. Rose – President, Joel A Rose & Associates, Inc.
Toby Brown - Director of Strategic Pricing & Analytics, Akin Gump
Vincent Cordo - JR. Global Director Client Value, Reed Smith LLP
Steven Lauer – Principal, Lauer & Associates
Michael Roach – CEO, KermaPartners
Patrick J. Lamb - Founding Member, Valorem Law Group
Barbara Boake – Partner, McCarthy Tetrault
Rick Kathuria - National Director, Project Management Office and Legal Logistics at Gowling Lafleur Henderson LLP
Sally Dyson – Director, Firm Sense Limited
Ori Wiener – Partner and Director at Møller PSF Group
David H. Freeman, J.D. – CEO, David Freeman Consulting Group
Paul Williams – Partner, Shook, Hardy & Bacon
The Lawyer's Guide to AFAs and Value Pricing
covers topics including:


Understanding the key elements of pricing innovation
Overcoming the resistance to change
Using AFA's as a profitability driver
Key considerations for pricing strategies
Designing objective oriented fee arrangements
Implementing a rigorous rate-setting methodology
Linking project management to pricing strategies
The risk of alternative fees and how to avoid them
Examples of successful appropriate fee arrangements
And much more….
The Lawyer's Guide to AFAs and Value Pricing
also features case studies from the likes of Pfizer, CMS Cameron McKenna, FMC Technologies, and Tyco International that highlight best practices in aligning your interests and the needs of your clients in order to create long-lasting, and successful, relationships.