Outperform the Competition: Business Strategies for the Social Law Firm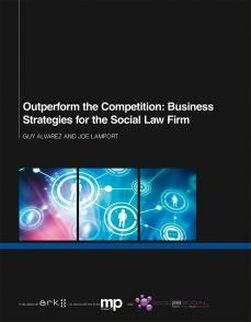 ISBN13: 9781783581337
Published: July 2014
Publisher: Ark Group
Country of Publication: UK
Format: Paperback (88 pages)
Price: £245.00

Despatched in 5 to 7 days.
The worlds most successful companies deploy social media strategies for good reason; clients are becoming ever more dynamic and unpredictable.
The risks of a modern day law firm's failure to evolve to stay relevant and competitive are huge; your clients demand a firm that is nimble and responsive to rapid marketplace changes.
How is this achieved?
This essential new report reveals how Social Business can provide your firm with a competitive edge. Written for large law firms, it includes exclusive legal market research, and explores how your firm can deploy tested tools and techniques which have proven success in the corporate arena.
This report shows you how to re-engineer your firm as a social business and form strong connections with clients. It reveals how to create a firm that engages, collaborates, and interacts with clients – both existing, new, and potential – which in turn leads to increased client satisfaction and loyalty.
In depth guidance is provided on topics such as:
Understanding the recent trends and successes in the corporate world
The arguments for and against applying the concepts and strategies of social business to your firm
Strategies to foster internal collaboration and deliver innovative client services
The report also contains detailed case studies demonstrating how cutting edge law firms are applying social business strategies in their everyday business.
If you are responsible for your firm's strategy, operations or business development, this report is a must read.