Demonstrating Value in In-House Legal Teams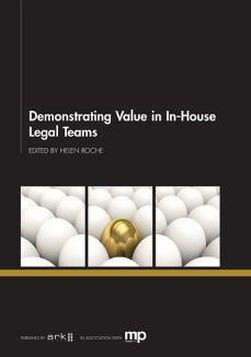 ISBN13: 9781783581412
Published: July 2014
Publisher: Ark Group
Country of Publication: UK
Format: Paperback (84 pages)
Price: £195.00

Despatched in 5 to 7 days.
Expectations on in-house legal teams and general counsel have changed...
The legal team is now evaluated like every other part of an organization and the head of any in-house legal team is held accountable for costs and effective management.
Every in-house lawyer is now expected to add value to their organization beyond the supply of cost-effective, quality legal services.
Managing Partners crucial new report Demonstrating Value in In-House Legal Teams examines the challenges (and benefits) for lawyers to successfully demonstrate value, and the methods by with it can be achieved.
It covers key topics including:
How a legal team can be measured based on their value creation
Using client surveys as measurement of in-house lawyers value
The importance of using metrics to demonstrate and prove value
The evolving role of the general counsel and their contribution to organizational strategy and innovation
How in-house legal teams effectively define, measure, and demonstrate value.
Unlocking value through close collaboration with outside counsel
The real challenges of value on the delivery of legal services
Structuring and aligning in-house teams to deliver greater value
The importance of the general counsel's relationship with the CEO
Demonstrating value by getting the client involved in the legal process
Case studies, in-depth insight, and practical working guidance...
Demonstrating Value in In-House Legal Teams is packed with case studies, in-depth insight, and practical working guidance from a wide range of international experts from corporate legal departments, law firms and academic institutions including the likes of:

+ Ian Jones, Lawyer and Legal Services Management Consultant, IanJonesLaw + Frederick J. Krebs, Senior Fellow, Georgetown University Law School's Center for the Study of the Legal Profession
Kenneth A. Grady, Chief Executive Officer, SeyfarthLean Consulting LLC
Dr Andrew Chester, Chief Executive, Iken Business Ltd
Danny Ertel, Partner, Vantage Partners
Greg Bott, Head of the Client Development Centre, Addleshaw Goddard
Lyn Boxall, Lawyer, and Legal Consultant, Khardung Consulting Pte Ltd
Andre Cyr, Vice President, TELUS Legal Services
Peter Talosig, Senior Counsel, NCI Building Systems, Inc
Demonstrating Value in In-House Legal Teams
provides in-house lawyers with the tools and best practices needed to demonstrate the value and input they bring to their organization.