In-House Ethics in Practice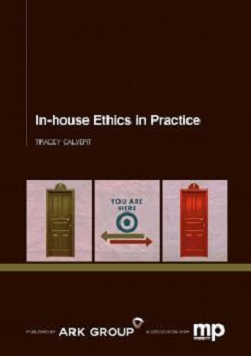 ISBN13: 9781783582037
Published: June 2015
Publisher: Ark Group
Country of Publication: UK
Format: Paperback
Price: £50.00

Lawyers are expected to behave in an ethical and professional manner at all times, and the SRA Handbook places extra emphasis on ethics in a lawyer's conduct and in client care. It is important that all in-house lawyers – whether in senior positions as heads of legal or as newly qualified members of legal teams – understand the behaviours expected of them.
In-house Ethics in Practice is a practical, easy-to-read guide on the ethical behaviour that is expected of in-house lawyers. It describes those behaviours that are expected when you work in a legal environment, and it provides guidance on some of the most challenging, but common, issues which arise in in-house practice.
Key features of this book include:
Explanatory analysis of conduct requirements
FAQs on key ethical issues
Examples from the Solicitors Disciplinary Tribunal and case law
Examples from the author's own experience working in the Law Society/SRA ethics department
Top tips are provided on the conduct issues discussed in each chapter
Why should you buy this book?


Benefit from the author's in-depth knowledge of SRA's ethics requirements
Prepare for ethical challenges you might face with the help of real-life scenarios that appear throughout the book
Ensure your behaviour is ethical at all times by checking the "top tips" section featured at the end of every chapter
Understand all the main areas the SRA focuses on with regards to client care, such as: conflicts and confidentiality, client money, referrals, and undertakings.
Own the only book currently on the market that deals with ethics in a practical and easy to follow (non-theoretical) manner