Human Trafficking and Modern Slavery: Law and Practice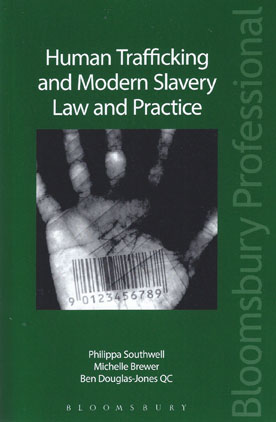 ISBN13: 9781784519339
Published: February 2018
Publisher: Bloomsbury Professional
Country of Publication: UK
Format: Paperback
Price: £75.00

Human Trafficking and Modern Slavery Law and Practice is a concise, practical, guide to modern slavery and human trafficking law and procedure, in a step by step format, covering all aspects of representing victims of human trafficking and the law surrounding this. Its cross-discipline approach offers practical guidance for criminal and immigration practitioners unfamiliar with each side of these practice areas.
Covers the following areas:-
Introduction – legal background, framework, domestic and international;
Definition of a trafficking victim;
Determination of status as a victim of trafficking;
Criminal – non punishment etc;
Criminal – victim protection etc;Immigration/International protection;
Trafficking and the European Convention on Human Rights;
Relevance of NRM decisions and interplay with the international protection/immigration claim/deportation etc.
Covers the following legislation and case law:-


The Modern Slavery Act 2015
Palermo Protocol 2000
Refugee Convention on Human Rights 1951
A large number of cases involving victims of trafficking have gone through the appeal courts in recent years. Despite the Court of Appeal in those cases heavily criticising police, prosecutors and defence lawyers who failed to identify and act upon claims of trafficking, victims are still slipping through the net and being convicted when they should not be. All practitioners who work in the field of modern slavery and human trafficking will know there is a hybrid of legal issues for any one case and practitioners will need to be alive to all legal issues.
This book aims to be a concise, manageable text for criminal and immigration practitioners alike and acts as a quick reference source for use by practitioners at court and at all stages through the justice and immigration system, as well as having appeal to the judiciary, students, academics and law enforcement agencies.