Civil Court Service (The Brown Book) 2016 Subscription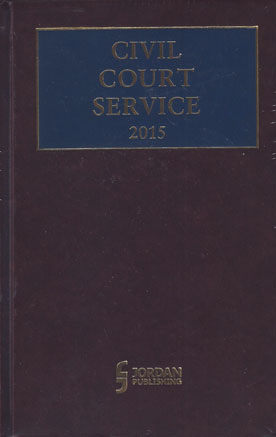 ISBN13: 9781784731908
Latest Release: April 03, 2016
Publisher: Jordan Publishing Ltd
Country of Publication: UK
Format: Hardback + CD-ROM
Price: £220.00 + £22.66 VAT

Subscription Type: Pay-as-you-go
Despatched in 4 to 6 days.
Civil Court Service ('The Brown Book') provides access to the full text of the CPR and all relevant materials in a single volume, combined with authoritative commentary from a team of leading judges and practitioners.
Under the Editorship of District Judge Graeme Smith, the Brown Book provides concise, relevant commentary to practitioners who need fast and reliable answers to procedural matters in the civil courts.
Civil Court Service 2016 includes amendments to the CPR up to and including the 82nd Update. The 2016 edition has been substantially revised to incorporate:
Various changes to the CPR with expert commentary, including:
A revised PD5B dealing with electronic filing and communication and a new PD 51O introducing the new electronic working pilot scheme
New rule 3.1A dealing with cases involving unrepresented parties
Amendments to Part 47 setting out new requirements for breakdown of costs and a new Precedent Q
Amended Pre-Action Protocols
General updates to take account of recent case-law such as:
Thevarajah v Riorden [2015] UKSC 78 on relief from sanctions
Alpha Rocks Solicitors v Alade [2015] EWCA Civ 685 on misconduct
Changes to housing legislation brought about by the Deregulation Act 2015
Latest versions of Court Guides including the new fourth edition of the Queen's Bench Court Guide and the Chancery Guide 2016
Courts' Directory, providing up-to-date contact details for all courts