Insolvency Legislation: Annotations and Commentary 5th ed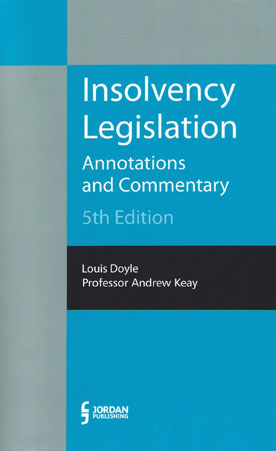 ISBN13: 9781784731960
Published: March 2016
Publisher: LexisNexis Butterworths
Country of Publication: UK
Format: Paperback
Price: Out of print

Insolvency Legislation: Annotations and Commentary provides practical guidance on the key primary and secondary insolvency legislation. In addition to the complete texts of the key statutory provisions, each is annotated with detailed analysis and commentary, providing practitioners and academics with everything they need within a single portable volume.
Combining the experience and knowledge of an established practitioner team and two leading academics, the book provides a practical discussion of relevant insolvency provisions and case-law.
The 5th edition has been thoroughly updated to take into account the relevant case-law and statutory developments since 2014 to include:-
Court of Appeal's purposive approach to the IVA regime( including the recent case Smith-Evans v Smailes; Price v Davis; Narandas-Girdhar v Bradstock
Consideration of new authorities on validation orders, wrongful trading law, private examinations and the treatment of proofs of debt at creditors' meetings
The new case-law on Schedule B1 administrations, including administrator's remuneration, the interaction between CVAs and arbitration awards following Westshield Ltd v Whitehouse [2013] EWHC 3576 (TCC) [2014] BPIR 317 and Tate Building Services Ltd v B&M McHugh Ltd [2014] EWHC 2971 (TCC) [2014] BPIR 1560
The text has also been updated to reflect the analysis of Stadlen J on Debt Relief Orders in R. (on the application of Howard) v Official Receiver [2013] EWHC 1839 (Admin) [2014] BPIR 204
Judicial decisions across the bankruptcy and cross-border regimes
The changes implemented by the Small Business, Enterprise and Employment Act 2015 and the Deregulation Act 2015
An essential reference work for insolvency lawyers, corporate restructuring specialists, licensed insolvency practitioners, academics and accountants.